What is temporary Email ?
Temporary email, is a service that provides users with a short-lived email address. These email addresses are typically generated by online platforms and have a predefined expiration time, which can range from a few minutes to several days, depending on the service.
Here's how temporary email works:
1. Instant Access: Users can access a temporary email address without the need for registration or providing personal information. It's a quick and hassle-free process.

2. Short Lifespan: Temporary email addresses are designed to be temporary, and after a certain period (usually determined by the user or the service), they automatically expire. This means they are suitable for one-time or short-term use.

3. Anonymity: Temporary email services often prioritize user privacy. By using these disposable email addresses, individuals can keep their primary email accounts and personal information safe from spam, phishing attempts, and unwanted promotional emails.
Now, let's delve into the reasons why you might want to use temporary email:
1. Protect Your Primary Email: One of the primary purposes of temporary email is to shield your primary email address from unwanted messages. By using a disposable email address for online sign-ups, you can keep your primary inbox clean and organized.

2. Avoid Spam: Spam emails are a constant nuisance, clogging up your inbox with irrelevant and potentially harmful messages. Temporary email addresses are a perfect tool to avoid getting spammed.

3. Prevent Data Breaches: In the unfortunate event of a data breach or security compromise on a website or service where you've used a temporary email address, your primary email and personal information remain untouched.

4. Anonymous Online Activities: When you need to participate in online forums, surveys, or other activities that require an email address but don't want to reveal your identity, temporary email is the solution. It allows you to maintain anonymity while engaging online.

5. Test Services and Sign-ups: If you're unsure about a website or service and want to test it before committing your primary email address, a temporary email address allows you to do just that without any risk.

6. Organize Your Inbox: For those who receive a high volume of emails, using temporary email addresses for different purposes or services can help you categorize and manage your inbox more efficiently.
In conclusion, temporary email is a valuable tool for anyone who values their online privacy and wants to maintain a clean and secure primary email inbox. Whether you want to protect your personal information, avoid spam, or engage online anonymously, disposable email addresses offer a convenient and effective solution for a safer online experience.
The Top 10 Sites and Apps for Temporary Email Addresses
Website/StandAlone: Website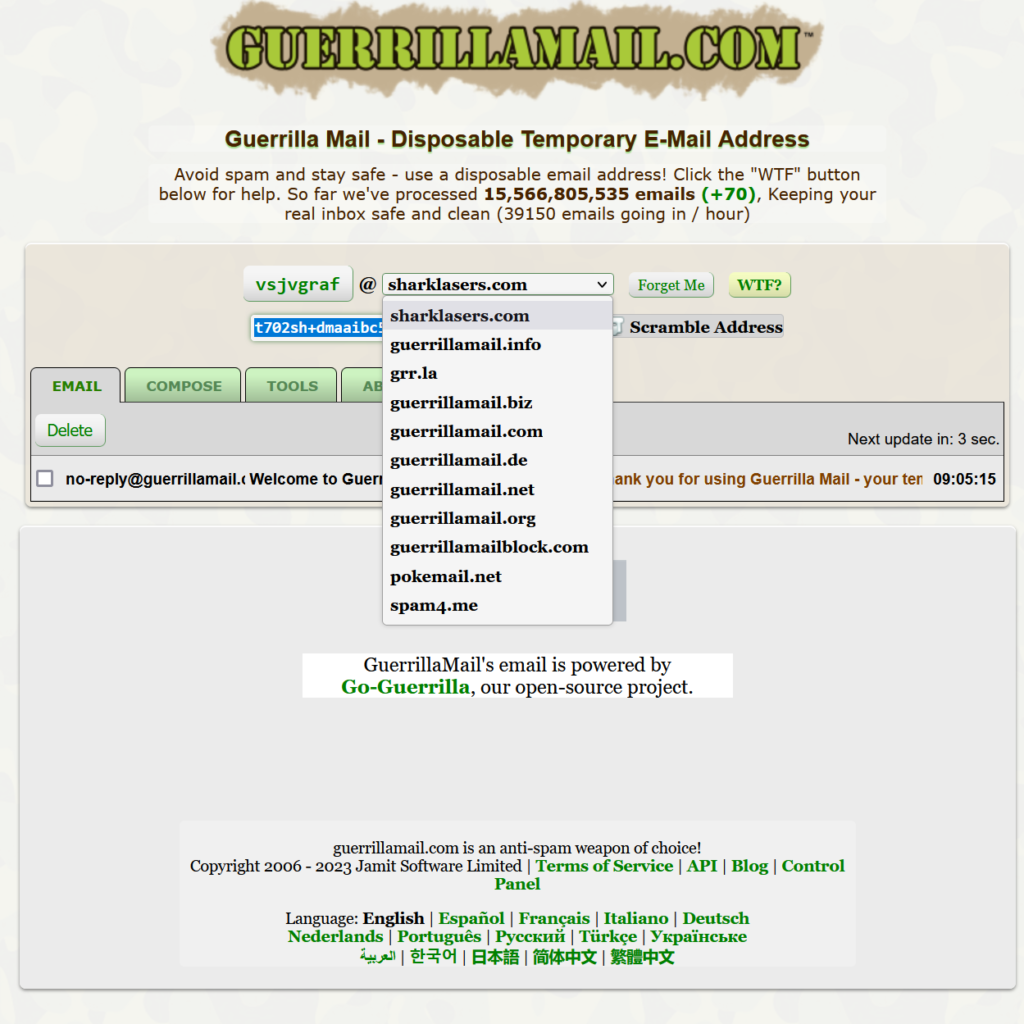 How It Works: Guerrilla Mail provides users with a temporary email address that's available for one hour. Users can receive emails and reply within this timeframe.
Capabilities: It's easy to use, and you can generate random email addresses.
Drawback: The email address is only valid for one hour, which can be limiting for certain tasks.
Web/Standalone App: Website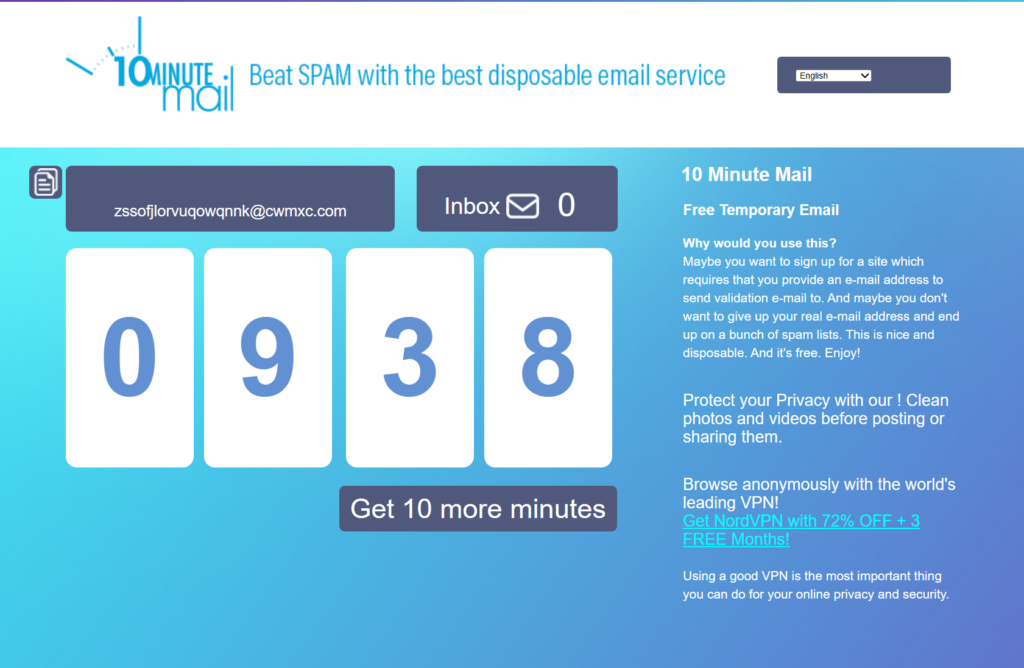 How It Works: 10 Minute Mail provides a temporary email address that's valid for, as the name suggests, 10 minutes. It's primarily for quick tasks.
Capabilities: Extremely short-term use makes it ideal for avoiding spam and signing up for short tasks.
Drawback: The 10-minute time limit can be restrictive for some purposes.
Web/Standalone App: Website
How It Works: Mailinator offers public inboxes where anyone can receive emails. You don't need to register.
Capabilities: It's versatile, as you can use any inbox name. It's great for testing or quick sign-ups.
Drawback: Public inboxes can lack privacy, and some websites may block Mailinator addresses.
Web/Standalone App: Website
How It Works: Temp Mail offers a temporary email address with a customizable inbox name. It's accessible without registration.
Capabilities: It's user-friendly and accessible to anyone. It's a simple, straightforward solution.
Drawback: The email address usually expires after a short time, which may not be suitable for long-term needs.
Web/Standalone App: Website
How It Works: Burner Mail lets you create temporary email addresses, and you can forward emails to your primary inbox.
Capabilities: Provides more control over your temporary emails and offers additional privacy.
Drawback: While it offers more features, some of them may require a premium subscription.
Web/Standalone App: Website
How It Works: MailDrop provides disposable email addresses with a straightforward interface.
Capabilities: It's user-friendly and quick to access without registration.
Drawback: Like many others, it offers limited email lifespan.
Web/Standalone App: Website
How It Works: YOPMail offers disposable email addresses with a specific domain, making it easy to remember.
Capabilities: It's compatible with various services and has a user-friendly interface.
Drawback: It may not provide as much anonymity as other options due to its easily recognizable domain.
Web/Standalone App: Website
How It Works: GetNada provides temporary email addresses with the option to create multiple inboxes.
Capabilities: Ideal for compartmentalizing your temporary email needs.
Drawback: It may not be as well-known or widely accepted as some other services.
Web/Standalone App: Web & App
How it works: Emailnator is an online disposable email service. It is a web service that accepts and displays emails sent to any possible address on the Mailinator domain.
Capabilities: Emailnator provides a private message routing system for QA testing teams and developers worldwide. It offers an ever-growing set of features, including webhooks and an API. Developers and QA testing teams can use Emailnator to automatically test their SMS and email workflows, such as 2FA verifications, sign-ups, and password resets. It can also generate email with Gmail Domain.
Drawbacks: While Emailnator is a useful tool for temporary email addresses, it has some limitations. For example, it does not provide long-term email storage or advanced features like filtering or forwarding.
Web/Standalone App: Website
How It Works: Mailnesia offers straightforward temporary email addresses.
Capabilities: It's simple and quick to use.
Drawback: It may lack advanced features compared to other options.
Each of these services has its strengths and weaknesses, making them suitable for different purposes. Depending on your specific needs, you can choose the one that aligns best with your requirements for temporary email addresses.